The small African country of Gabon is preparing for its first real democratic election in decades following the
death of President Omar Bongo
, who led the country for 41 years. 23 candidates are slated to be on the ballot, including the late President's son, Defense Minister Ali Ben Bongo. Some candidates have been calling for a delay of the August 30 election date citing irregularities in voter registration records.
Gabon, which is about 200 times the size of Manhattan but roughly equivalent in population, became independent from France in 1960 and has since retained close ties with its former colonial rulers. Gabon's capital city is Libreville. Tho country produces 273,000 barrels of oil a day, which makes up more than a third of the nation's economy and helped finance Mr. Bongo's purchase of dozens of luxury properties in France.
Something to think about: If the U.S. weans itself off fossil fuels, the petro-dollars dry up and all the good people of Gabon wallow in extreme poverty. All the eco-friendly do-gooder greenies might as well call for Gabonese genocide. Just kidding. Well, half kidding.
The Guardian did a
stunning photographic retrospective
on Bongo (whose name, for me, summons notions of a
certain blue Muppet
with a long hook nose. If you're a bit older, it may remind you of a certain
Ronald Reagan movie
, too.)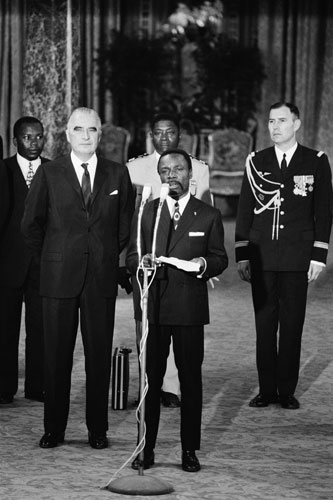 Bongo in Paris, 1970. (Photograph: Christian Simonpietri/Corbis)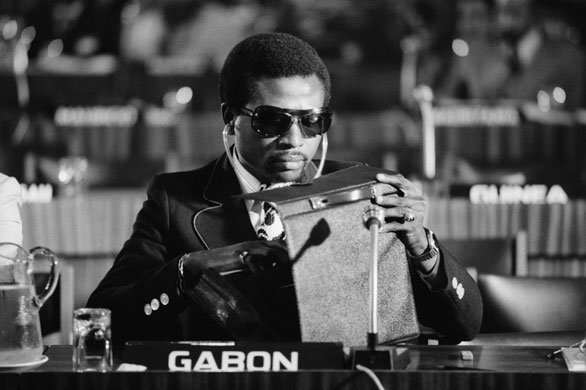 Bongo at a conference in Lima, Peru, 1975. (Photograph: Diego Goldberg/Corbis)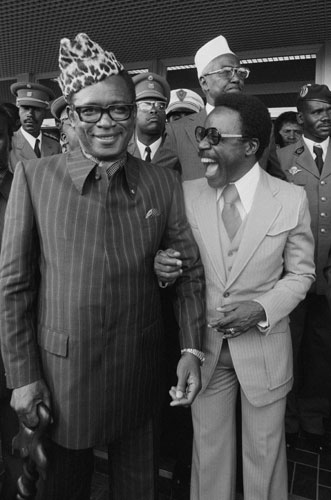 Mobutu Sese Seko of Zaire and Bongo share a joke during the sixth
Franco-African summit in Kigali, Rwanda, 1979. (Photograph: Richard
Melloul/Corbis)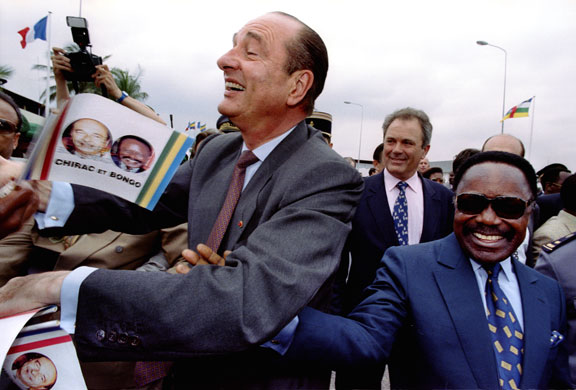 With Jacques Chirac in 1995. (
Philippe Wojazer/Reuters)
Bongo at the White House, 2004. (White House file photo)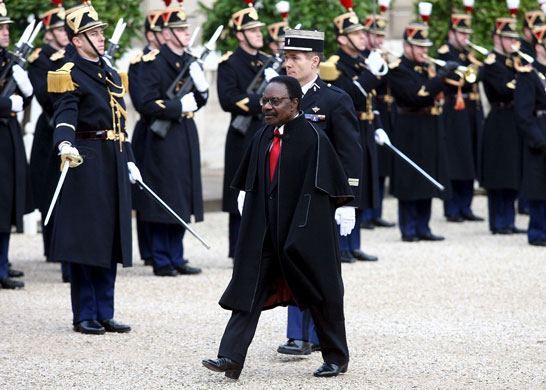 Bongo in Paris, 2006. (
Photograph: Oliver Weiken/EPA
)
AFP Photo
Well Craig over at
Puntabulous
had someone come in and give a
talk about Iceland
, so I thought, "Why not Gabon? It's bigger than Iceland and even has a President who takes a good picture."
Oh, this just in: Violent clashes have broken out in Gabon between police and several thousand demonstrators calling for presidential candidate
Ali Ben Bongo
to resign from the cabinet as defence minister...