I think I could be coming down with a case of Levi-mania. Levi Johnston went to the Teen Choice Awards as the date of 48-year-old Kathy Griffin. The 19 year old Alaskan high school hockey star and father of (at least) one also happens to be adorable.
Photo:
Huffington Post
He did a recent interview and photo shoot with GQ. Another photo shoot with Vanity Fair; he's making the rounds. But he seems so genuine, not like the fake people you see so often making that circuit. It's refreshing, and it's hooking me a little.
Johnston said he felt the Palins were sending mixed messages as to whether they wanted him to be part of their family.
Paul Sancya/AP
"I know that her parents didn't want us together ... so they probably put a little pressure on her," he said. "But at the same time, they told us they wanted us to get married when they found out Bristol was pregnant. ... I don't know what the deal was."
Johnston says he had been in love with Bristol and that their three-year relationship started to fall apart almost immediately after the Republican National Convention. As for a potential reconciliation, "Nah, I don't think that's gonna happen," he said.
Look at him taking care of the baby!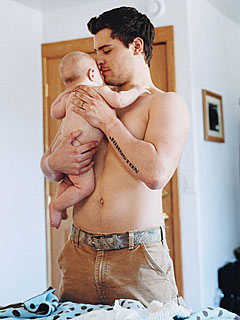 Photo credit: Ture Lillegraven/GQ
Check out this
video
of Levi looking like a lost puppy in Hollywood.
P.S. That video's hosted through Brightcove. It's not YouTube, but it's not bad. Much smoother than a lot of the other video platforms out there in the inter-webs. (Firefox! How many times must I tell you not to insert hyphens into the middle of words...)
P.P.S. I hate the wording of the title of this post. It's an experiment. The original title went something like what's in the first line, but it
celebrities
,
shirtless
,
adorable celebrities
,
almost famous
,
refreshingly genuine
,
dating 19 year old
,
kathy griffin boyfriend